Electrics >
Spark Plugs
---
Spark Plug Setup Various Cylinder
| Cylinder | Bosch | NGK | Denso | Champion |
| --- | --- | --- | --- | --- |
| V50 Original | W5AC | B7HS | W22FS-U | L81/L82/L4J/L5 |
| PK 50S Original | W5AC | B7HS | W22FS-U | L81/L82/L4J/L5 |
| PK 50XL Original | W4AC | B8HS | W24FS-U | L4J/L5 |
| PV / ET3 Original | W5AC | B7HS | W22FS-U | L81/L82/L4J/L5 |
| PK 80-125 Original | W4AC | B8HS | W24FS-U | L4J/L5 |
| DR 50 ccm | W5AC | B7HS | W22FS-U | L81/L82/L4J/L5 |
| Polini 50 ccm | W4AC | B8HS | W24FS-U | L4J/L5 |
| Pinasco 50 ccm | W5AC | B7HS | W22FS-U | L81/L82/L4J/L5 |
| Pinasco 60 ccm | W5AC | B7HS | W22FS-U | L81/L82/L4J/L5 |
| DR 75 ccm | W4AC | B8HS | W24FS-U | L4J/L5 |
| Polini 75 ccm | W4AC | B8HS | W24FS-U | L4J/L5 |
| Malossi 75 ccm | W4AC | B8HS | W24FS-U | L4J/L5 |
| Pinasco 75 ccm | W4AC | B8HS | W24FS-U | L4J/L5 |
| DR 85 ccm | W4AC | B8HS | W24FS-U | L4J/L5 |
| Polini 85 ccm | W4AC | B8HS | W24FS-U | L4J/L5 |
| DR 102 ccm | W4AC | B8HS | W24FS-U | L4J/L5 |
| Polini 102 ccm | W4AC | B8HS | W24FS-U | L4J/L5 |
| Pinasco 102 ccm | W4AC | B8HS | W24FS-U | L4J/L5 |
| Polini 110 ccm | W3AC | B8HS | W24FS-U | L78C |
| Pinasco 121 ccm | W4AC | B8HS | W24FS-U | L4J/L5 |
| Polini 133 ccm | W3AC | B8HS | W24FS-U | L78C |
| Malossi 136 ccm | W3AC | B8HS | W24FS-U | L78C |
| Malossi 136 ccm gedreht | W2AC | B9HS/B10HS | W27FS-U | L77C/L78C |
---
"Hot" and "cold" Spark Plugs
It is of paramount importance to secure the correct spark plug fitting the individual engine setup. The basic parameter you have to be aware of when running a Vespa engine is the so called heat range specification. Operating the engine under certain erroneous conditions may result in piston damage or a badly performing engine regarding power, idle and consumption. The technical term "hot" for a spark plus is used when the tip of the spark plug can keep more heat, when it basically is a better heat insulator. The technical term "cold" for a spark plug is used when the heat is more easily conducted out of the spark plug tip, when the spark plug tip is basically kept at a lower temperature. That is what is known as the heat range of a spark plug. It is typically specified as a number, whereas different manufacturers are using different methods in order to specify the heat range of their spark plugs. For example: Bosch uses higher numbers for "hotter" spark plugs (W5AC) descending to lower numbers for the "colder" versions (W3AC). Some other manufacturers using ascending numbers from "hot" spark plugs up to "cold" spark plugs. As a principle you should remember that modified or especially racing engines as well as long distance runners require a "colder" spark plug than compared to the genuine engine setup.
The following table and information is mainly taken from 3 major sources. My favorite here was SIP Scootershop:
Cylinder Type and Spark Plug Specs
Brand Comparison Spark Plugs SIP
Brand Comparison Spark Plugs Motorradlädchen
It may for sure be possible that one vendor recommends one type of spark plug for a few different engine setups. Whereas another manufacturer is recommending another spark plug spec type. There are of course indidvidual differences per the specific manufacturer.
---
Brown to Grayish-tan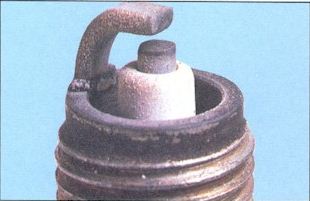 ---
Spark Plug Normal Condition
NORMAL: Brown to grayish-tan color. Electrode just slightly worn out. A correct heat range is used and operating conditions are within the desired parameters. If the color is rather grayish into bright white, the fuel mixture is too lean and the carburetor needs to be adjusted correctly. Turn out the fuel mix needle 1,5 rotations from the fully turned in end position.
Carbon Deposits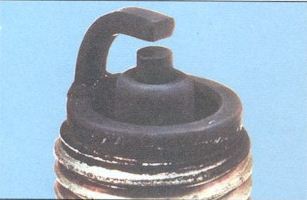 Spark Plug Carbon Deposits
Carbon Deposits: A dry and sooty deposit is an indication for a rich mixture or weak ignition. The reason for is that the spark plug temperature isn't high enough in order to self clean the tip and electrode. This can cause misfiring, hard starting and hesitation. Please make sure that you have the correct spark plug heat range in use. You should also check your air intake system for a dirty air filter.
Oil Deposits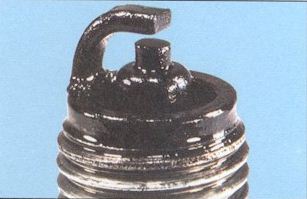 Spark Plug Oil Deposits
Oil Deposits: Oily coating which is caused by rich mixture. You should check and adjust your carburetor settings. Turn out the fuel mix needle 1,5 rotations from the fully turned in end position.